Season's Screenings Bring out Best Films of the Year
Dennis Harvey
November 24, 2010

The film industry has lately been withholding a major chunk of its prestige releases for the end of the year, largely in the hopes that awards-giving bodies will remember them better when it comes to handing out those profile-raising, box-office-helping prizes. That logic has become its own self-fulfilling prophecy—it's rare these days that movies released significantly earlier in the year win Best Picture nods at the Academy Awards, for instance. But January through June's loss is November-December's gain: Discerning audiences who have spent months lamenting there's nothing but greasy kid stuff at the cinema can at least look forward to some grownup fare as the year closes.

One might say 2010 upped the ante in that regard: Better fare isn't just desired but desperately needed for mainstream film viewers in this particular annum. Will our remaining five weeks redeem the year in film? Let's take a fast week-by-week whirl though what we've got to look forward to (or in some cases tactfully avoid).

This very weekend is traditionally one of the year's biggest, as the overstuffed family seeks relief in a pastime that requires little movement or conversation. It is safe to say that opening this week is something for everyone, meaning a rather bewildering array of variously escapist and edifying diversions.

On the multiplex beat, you've got something for adolescent boys of all ages (Dwayne "The Rock" Johnson kicks major avenging butt, including that of Billy Bob Thornton, in macho actioner Faster) and little girls ditto (new Disney 'toon Tangled, which puts a grrl-power spin on Rapunzel). For gay men and other fans of pop tarts, there is the new musical drama Burlesque, with Christina Aguilera making her acting debut as new talent mentored by club boyenne Cher. Advance word is that this isn't the campy Showgirls-type fiasco many feared (and others no doubt hoped for), but a mixed bag that works well when characters are singing and dancing, if not so well when they're trying to act like real people.

For heterosexual couples and those aspiring to be, there's date flick Love and Other Drugs, in which Anne Hathaway and Jake Gyllenhaal reportedly get naked a lot more often than is current romantic-comedy norm. For those of you who can't start living like it's Christmas early enough—the people who don't mind carols played in Walgreens the day after Halloween—there is The Nutcracker in 3-D, a live-action musical (two in one week!) turning the familiar Tchaikovsky into songs.

Things are equally diverse in arthouse land. Somewhat formulaic U.K. crowdpleaser Made in Dagenham stars Happy-Go-Lucky's Sally Hawkins in another winning turn, as a real-life English Norma Rae leading a 1968 women's factory strike. Also working hard for the money is Ghana émigré Prince Adu, who's won raves for his first film role as a New York City fake-designer-goods hustler who gets an unwelcome surprise—a baby boy (one he didn't know he'd sired) to take care of—in Sean Baker's gritty but ingratiating Prince of Broadway. The documentary Ahead of Time profiles the extraordinary life and times of 97-year-old Brooklynite Ruth Graber, while two more remarkable women—Claire Denis and Isabelle Huppert—collaborate for the first time on White Material, a drama set in an unnamed, civil-war-torn African nation.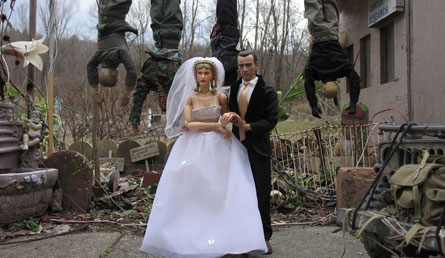 Jeff Malmberg's Marwencol
The curiosities come out of the woodwork the following week. The Roxie commences a week's run on December 3 of The Temptation of St. Tony, Estonian director Veiko Ounpuu's exercise in black-and-white surrealism about a middle-management type sucked into a series of increasingly bizarre events. It is well worth a look, as is Marwencol, Jeff Malmberg's doc about one man's very, very unique hobby. Closer to home but also on the stranger-than-fiction tip is Michelle Esrick's Saint Misbehavin': The Wavy Gravy Story, about the Bay Area's own never-say-die clown prince of psychedelic relics, which opens a run at the Red Vic on December 3.

More mainstream but also decidedly offbeat are the long-delayed I Love You, Philip Morris, with Jim Carrey and Ewan McGregor as gay lovers in a fact-inspired story about a world-class con man; and Darren Aronofsky's Black Swan, a tale of ballet-world chicanery whose festival travel had some viewers calling it the best movie of the year. Promising to be an oddball international melange is martial-arts actioner The Warrior's Way, which has South Korean star Jang Dong-Gun as a fish very far out of water in the Wild West, with Brit Kate Bosworth, Aussie Geoffrey Rush and Yank Danny Huston among the folk abidin' thereabouts. It was shot in New Zealand, for good measure.

The big guns start rolling out on December 10. Those who've recovered sufficiently from Harry Potter to absorb a whole new slice of jumbo-family-fantasy-franchise can start queuing up for The Voyage of the Dawn Treader, a third installment in the Chronicles of Narnia series. Fantasy of a different stripe entirely can be had in The Tempest, an eccentrically cast (Helen Mirren as Prospero, plus Russell Brand, Djimon Hounsou, Chris Cooper, Alan Cumming) Shakespeare adaptation that will no doubt feature the usual visual panache of stage/screen director (The Lion King, Frida) Julie Taymor—though early reviews have not been stellar.

They certainly have been, however, for another British import that has heavy Oscar buzz behind it: The King's Speech, with Colin Firth as King George VI (the current queen's dad) and Geoffrey Rush as the speech therapist who cured his terror of public speaking. Equally acclaimed on the festival circuit as one of the best U.S. debuts in recent memory is Tiny Furniture, whose director-writer Lena Dunham also stars as a liberal-arts college and Manhattanite graduate who really, truly has no idea what to do with adult life.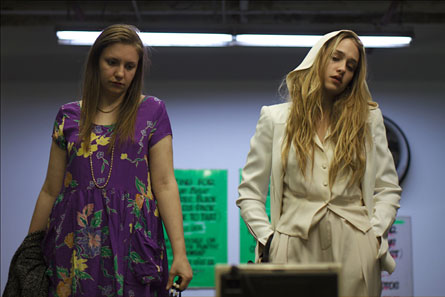 Lena Dunham's Tiny Furniture
Other openings December 10, include another New York City story, The Legend of Pale Male, a documentary love story whose protagonists—man and Red-tailed hawk—meet cute in Central Park. From Los Angeles, the latest assembly of Henry Jaglom eccentrics vie for Queen of the Lot in an industry-centered comedy. Meanwhile, people with real issues on their minds clash in the 1976 Philadelphia of Tanya Hamilton's Night Catches Us, with Kerry Washington and Anthony Mackie heading a strong African American cast as former Black Panthers wrestling with that movement's legacy. On a more populist note, there's A Thousand Words, Eddie Murphy's latest gimmick-based comedy, in which he plays a man who learns he only gets a precisely limited number of opportunities to speak before breathing his last. It's gotten very little advance promotion, which cannot be said for The Tourist, a globe-trotting thriller that unites the paparazzi-enthralling duo of Johnny Depp and Angelina Jolie.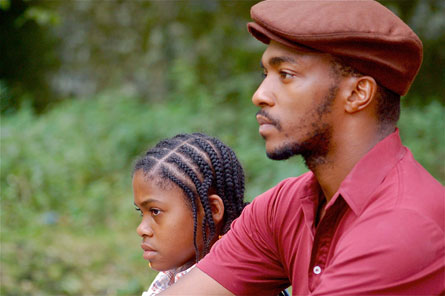 Tanya Hamilton's Night Catches Us
By December 17, things get kinda rough. Two of the week's new entries are about boxing. David O. Russell's The Fighter has Mark Wahlberg and Christian Bale giving potent performances as hard-luck Massachusetts brothers—one a perpetual good-guy underdog, the other a braggardly champ turned crack addict—sparring in and out of the ring. Even grittier—because it's true!—is Frederick Wiseman's new doc, Boxing Gym, which at a mere 91 minutes is one of the verité pioneer's least lengthy endeavor in years.

Speaking of roughness and realness, Capturing the Friedmans director Andrew Jarecki's long-delayed dramatic feature All Good Things offers true-crime reeanctment with Ryan Gosling, Kirsten Dunst, Kristen Wiig and Frank Langella as players in one of NYC's most infamous unsolved murder cases. Absolutely unrelated to reality as we know it, by contrast, is Finnish import Rare Exports: A Christmas Tale, a black comedy-fantasy in which Santa Claus and the elves are waaay more naughty than nice. This is one Yuletide tale that is not for kids.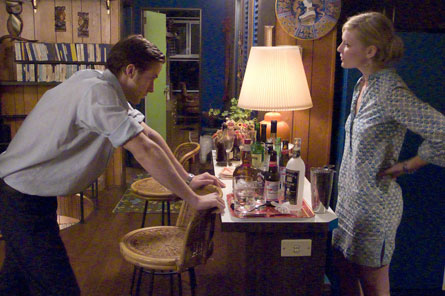 Andrew Jarecki's All Good Things
Also for grownups, if less edgily so, is James L. Brooks' latest seriocomedy How Do You Know, which boasts the tantalizing quartet of Reese Witherspoon, Jack Nicholson, Paul Rudd and Owen Wilson. Please, may it be more like his Broadcast News than his Spanglish. Definitely for kids is the semi-animated Yogi Bear, with Dan Aykroyd voicing a CGI version of Jellystone Park's favorite furry and Justin Timberlake as Boo-Boo; Anna Faris heads the humans on exhibit. Similarly mixing media is Tron: Legacy, the sequel to a nearly 30-year-old fantasy flop beloved by everyone since—perhaps especially people who weren't yet born in 1982. Jeff Bridges returns, older; no doubt the FX will be a lot shinier.

Xmas week itself brings almost nothing but great big shiny packages for you to open or leave alone as you please. There will be CGI aplenty in animator (Monsters vs. Aliens) Rob Letterman's live-action debut Gulliver's Travels, with Jack Black as guess who. Let's just hope it's marginally closer to Jonathan Swift than Tim Burton's Alice was to Lewis Carroll. Also offering family fun—not for any family I'd raise, but still—is Little Fockers, the threequel that asks the musical question: Who'd have guessed this would be where Barbra Streisand's movie career would end up? On the other hand, who foresaw Gwyneth Paltrow singing country music as she does in Country Strong, Shana Feste's Nashville-set drama?

There are also some high-ticket prestige items, topped by True Grit—the Coen Brothers' remake, with Jeff Bridges (from whom two movies in two weeks isn't even satiating) in the role that finally won John Wayne his Oscar. It should be a hoot, or maybe a hootenanny. Promising no laughs whatsoever, John Cameron Mitchell's adaptation of the stage play Rabbit Hole gives Nicole Kidman and Aaron Eckhart a serious thespian workout as grieving parents. A differently stressed parent-child relationship is explored in Sofia Coppola's new Somewhere, which has Stephen Dorff as a dissolute movie star who has to dad up when his ex-wife dumps their child (Elle Fanning) in his lap for an indeterminate spell.

Oscar winner Kevin Spacey reaches for another statuette—he shouldn't hold his breath—with a flashy performance as Casino Jack in recently deceased George Hickenlooper's biopic about disgraced lobbyist Jack Abramoff. (Who, by the way, will be checking out of his post-Federal prison halfway house just in time for the holidays on December 4.) Speaking of white-collar skullduggery, John Wells' Sundance-premiered The Company Men has Ben Affleck, Tommy Lee Jones, Chris Cooper and Kevin Costner as corporate bigshots who wake to a cold New Economy dawn that downsizes them right out of the boom they never thought would end. Merry Christmas, guys—now you know how most of America feels.

Those looking for entertainment the whole family can enjoy—meaning you won't be squirming in pain while the kids enjoy losing a few brain cells—will find there are a couple superior options, both animated. The new one is Mamoru Hosoda's Japanese Summer Wars, a mix of coming-of-age tale and save-the-planet sci-fi. The oldie (well, not so old, but definitely golden) is Nina Paley's wonderful Sita Sings the Blues, whose very contemporary spin on Indian mythology returns December 23–26 for yet another Red Vic run.

Sneaking into Bay Area theaters just before the new year are a couple items that sure won't be accentuating your holiday cheer: Divisive French maverick (Humanité, Flanders) Bruno Dumont's latest Hadewijch (opening at the Roxie on the December 31) is a complex meditation on Christian and Islamic relations through the prism of a defrocked nun's experiences; Aussie arthouse entry Red Hill, Patrick Hughes' debut feature, stars True Blood's Ryan Kwanten as a rookie cop sinking fast into the quicksand of an outback burg's western-noir intrigue; and Shakespeare in Love director John Madden's The Debt involves Helen Mirren, Tom Wilkinson and Avatar's Sam Worthington in the search for a Nazi war criminal. Then there's David Cianfrance's Blue Valentine, the Sundance-acclaimed drama that has raised the awards-season flag for Michelle Williams and Ryan Gosling as the parties in a failing marriage. It's also won a little notoriety lately for getting an NC-17 rating in one of the MPAA's less explicable recent decisions.

Several features being bandied about for 2010 awards consideration won't actually open in the Bay Area until early 2011. Among them are Alejandro González Iñárritu's (Babel) new Biutiful, which affords Javier Bardem some heavy dramatic lifting; Mike Leigh's latest Another Year; French cartoon The Illusionist, from the folks who gave you The Triplets of Belleville; and last but not least, the two packages of this year's Oscar-nominated short films (animated and live action), which both open at the Lumiere on February 11.