Graham Leggat and a Film Society Transformed
Susan Gerhard
August 26, 2011

Leggat's eventful six-year tenure with the San Francisco Film Society changed an institution as well as the filmmaking landscape in the Bay Area and beyond.

Walked into [the] office and knew this was it—career, vocation, my joy, my dream, my rest—all rolled into one.
—Graham Leggat to Leah Garchik, SF Chronicle, on getting his first film job, working with Richard Herskowitz and Mary Fessenden at Cornell Cinema

Graham Leggat, San Francisco Film Society's executive director for the past six years, passed away after an 18-month struggle with cancer, on August 25, 2011. In the days before he died, colleagues, friends and fellow travelers reflected on his work in San Francisco and his effect on their lives. For many, the time could be summed up by one word that Leggat himself was fond of: "transformative."

[Editor's note: Reader thoughts are welcome in the Comments section below this article.]

An institution that a half-decade earlier had been known primarily as the producer of one 14-day film festival had grown into a year-round exhibitor of films, with a new state-of-the-art hub for that exhibition at San Francisco Film Society | New People Cinema. Its once small roster of permanent staff doing film programming had expanded into a larger group that produced not just film events and series but educational programs for all ages and seasons. SFFS had introduced into the mix a prominent project development department servicing filmmakers/artists nationwide with funds and professional guidance.


"A few numbers tell the story," SFFS Board President Pat McBaine explained to the 2011 San Francisco International Film Festival opening night audience before introducing Leggat, who only a few close friends and family knew at the time had been diagnosed with Stage 4 cancer. In the past five years, the Film Society's operating budget grew from $2 million to $6 million, McBaine said, and was balanced each year. Staff grew from 11 to 35. Contributed income rose from $1 million to $3 million. Membership that grew 98 percent; ticket sales 62 percent; gala receipts 42 percent.

But numbers did not tell the whole story, as McBaine astutely acknowledged on stage before Leggat, who had kept the recent news of his terminal condition under wraps so that the work leading to and the enjoyment of the Festival that followed could flow uninterrupted, gamely took the podium and introduced the Festival's Director of Programming, Rachel Rosen. Anyone who had the opportunity to cross paths with Leggat understood that in his time with the Film Society and the City, Leggat left a very personal imprint, one marked by ambition, wit, humanity, intelligence, pragmatism, and style, as well as a keen sense of timing and a concomitant sense of urgency. In his last months on the job, he was busy securing a more permanent home for SFFS's year-round programming, the San Francisco Film Society | New People Cinema. He passed away just a week before it was set to open.


Engaging a City

Born March '60 in Epsom, Surrey.
Grew up in England of Scottish parents, went to English schools. Good ones, too.
Father was a professional footballer and later a TV commentator; mother a teacher and later an HR exec at a financial company.
Spent childhood and much of adolescence in England and Scotland, as father's career moved him from one team to another three or four times.
Following end of father's playing career, in mid '70s, emigrated to Toronto, Canada. Went to high school in Canada, didn't much like it.
—Graham Leggat to Leah Garchik, 2011

His thoughts for greater initiatives revealed intelligence, ambition and a familiarity with the sector of the film world that we inhabit. He said that he would move into the future on a steady, intelligent course, implementing initiatives based on collaboration and logic, and based on a thorough analysis of the marketplace, the organization's resources and its history. 'I'm not into personality-driven initiatives,' he said.
—SFFS staff report (excerpted) after interviewing Graham Leggat for the SFFS Executive Director job, 2005

To Bay Area friends of film and fans of the San Francisco International Film Festival, the arrival of Graham Leggat, an articulate, knowledgeable, engaged new leader was less cause for celebration than incredulity: It seemed simply too good to be true. The previous spring, Bay Area writer, programmer and film businessman Jonathan Marlow had written a Five-Point Plan for improvement at SFIFF that was widely circulated via David Hudson's GreenCine Daily—and the first item on the agenda was "Rethink the Management." "I might as well address the most problematic item first," he wrote, echoing complaints he'd heard at the 2005 International.

A short year later, with Leggat in his position for only a few months, and the Festival planning and programming already well underway at the time of his arrival, the San Francisco International had begun its return.

"When Graham Leggat kicks off the San Francisco International Film Festival on April 20," wrote Chronicle senior movie writer Ruthe Stein in March, 2006, "he'll already be familiar to many in the influential opening night crowd. Since taking over in October as executive director—the fourth one in a turbulent last decade–Leggat has logged 16-hour days attempting to assure cinema devotees that the reins of the city's premier festival finally are in the right hands. He's busily mending fences, cozying up to power brokers and making 'Zelig'-like appearances at seemingly every event put on by other festivals, impressing the local film community with this show of solidarity."

Among the impressed was Acting SFFS Executive Director Steven Jenkins, who, at the time, was working at Frameline (San Francisco International LGBT Film Festival). After meeting with Leggat to talk about one of Graham's earliest ideas with SFFS, a Festival of Festivals, uniting the disparate film exhibition forces of the city, Jenkins attended the press conference for the SF International's 49th. "Graham talked about SF360.org at that press conference and was so excited about it. He said this [publication] is decidedly not just about what's happening at the Film Society— we've got all our other pals in town. He pointed to Chi-hui [Yang, then Director of the San Francisco International Asian American Film Festival, who SF360 had just featured] and found me from the podium, saying, 'Jenkins you're next.' I had only met him twice. I was so struck that when he came to town, he immediately got to know who was working where, something about their background. It wasn't just some tactical maneuver. It was a genuine interest."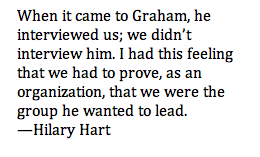 Remembered SFFS Director of Publicity Hilary Hart, who interviewed executive director candidates as a member of the staff at the time, "When it came to Graham, he interviewed us; we didn't interview him. I had this feeling that we had to prove, as an organization, that we were the group he wanted to lead. [He just] grabbed the bull by the horns. He knew the history, but he also saw the potential. In the interview, it was clear that if we proved we were worthy, then he could come in and take the organization where we all wanted it to go."

Where the organization would be going, in an immediate sense, was out to the community. By January, Leggat had devised an initial plan, announced in a much publicized press conference at Sundance, for cutting-edge and citizen-spirited elements then organized under the SF360 label, including plans for this publication, which was designed by indieWIRE in partnership with San Francisco Film Society; an expanded calendar of screenings and specialized festivals, including an animation festival; an educational initiative involving the creation of a curriculum for San Francisco schoolchildren; and a San Francisco Movie Night, in which the entire city would be invited to watch and discuss a particular film.

The ambitions seemed outsized; most if not all of these ideas would be tested and tried; a few would, predictably enough, fall by the wayside. What couldn't have been predicted by anyone except, perhaps, Leggat himself, was that the realities that replaced these initial ambitions involved even larger shifts and expansions for the organization: A fully realized slate of year-round programming, an established educational department, a nationally recognized film project-development team dispensing millions of dollars in grants to local filmmakers and guiding filmmakers through funding and production processes.

"Graham's boundless energy and intellect made him just the person to inspire and excite the staff and board to reach new heights and develop our assets," said Melanie Blum, former president of the Film Society board of directors, who organized the executive director search that led to Leggat's appointment in 2005.

"I had the unexpected good fortune to be appointed Executive Director of the SF Film Commission just before the brilliant Graham Leggat was recruited to be Executive Director of the SF Film Society," wrote Stefanie Coyote in an email to SF360. "Together we were able to celebrate San Francisco's incredible legacy of film during the 50th anniversary of the SF International Film Festival in 2007 by focusing on San Francisco filmmakers with Fog City Mavericks and celebrating with the Opening Night party at City Hall. I could not have imagined a better partner than Graham."

Coyote remembered the group effort in creating FilmHouse Residencies, a joint project of the SF Film Commission and SFFS supporting filmmakers by offering offices and incubator space on Port of SF property, which began in November, 2008. For years, it had seemed the City kept at arm's length from its International, but by 2009, San Francisco's fingerprints were all over the Festival. Opening night of SFIFF 2009, Coyote remembers as "magical," in some ways because of civic participation: The film, La Mission directed by SF native Peter Bratt, was filmed entirely in San Francisco and supported by the City's Scene in San Francisco film production rebate program, Coyote noted.

"Graham understood the importance of film internationally as a cultural art form," continued Coyote, "an inspiration to humanity and as a badge of honor for the City he came to and honored with his talent and devotion."

"Devotion" is indeed the word; Leggat had studied the City like a book, learning names, venues and the minutiae of its industries before thinking up new collaborative efforts to better represent its assets. In his very first festival (2006), he engaged unlikely satellite venues (Lucy Gray's 'Big Tilda' projected on the side of City Hall, Dolissa Medina's Cartography of Ashes playing a Mission firehouse); shook hands with citizen journalists and featured their blogs on SF360; initiated a new-audience-building cross platform Kinotek programming strand with Sean Uyehara, which featured not just film but literary and performance events; and began building bridges to the most innovative and large-scale industries of the Bay Area (animation, high tech, the world of Lucas) previously undervalued within local festival culture.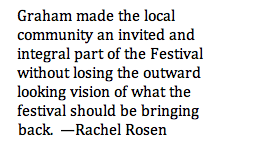 "Pre-Graham, the Festival was an internationally well-known cultural organization looking to Europe and New York," said current Director of Programming Rachel Rosen, who'd worked at the International for years before, and had suggested Graham as an executive director candidate to the SFFS Board while programming the Los Angeles Film Festival. "The primary drive of the Festival was about the international film world. The really incredible thing that Graham has done is to make the local community an invited and integral part of the Festival without losing the outward looking vision of what the festival should be bringing back. And it's a huge difference."


Growing a Film Community

Enrolled fall 1987 in master's program at Syracuse to study fiction writing with Toby Wolff. Graduated with M.A. in English and Creative Writing.
Daughters' (plural) mother was Ellen Simon. We were married approximately 8 years. Divorced early '90s.
Worked as odd-job man and freelance journalist '89-'91.
—Leggat to Garchik, 2011

What I want to tell you, even if you hear it a hundred thousand times over, is what a huge impact you have had on this community and on me, personally as a filmmaker. You have brought a caliber and legitimacy to filmmaking in San Francisco that means the world to me. I have seen so many friends and colleagues come and go from this town, most of them giving up and settling down in NY or LA. I have stuck it out, always maintaining a pride in the community here, but quite honestly....there was often an inclination in the past....a tiny twinge of apology for the folksiness and unpredictability of our scene up here. The work you have done through the Film Society has been a complete game-changer—and now my humble pride has grown into to a full-blown, home-team cheering (or maybe even bragging) exuberance! You have managed to keep the quirky spirit of SF alive in the midst of a vibrant film culture with much more mainstream appeal than I would have ever thought possible. I am so grateful for that. And you managed to do so while bringing together all the factions and tribes that exist among us—which was a tall order, I'm sure.
—Personal note from filmmaker Amanda Micheli to Graham Leggat (excerpt), July, 2011

Despite Leggat's achievements in his first two years with the Film Society—perhaps because of those achievements and the ambition they represented—no small amount of second-guessing accompanied proposals for the San Francisco Film Society to absorb operations of longtime filmmaker support organization Film Arts Foundation which was, by the summer of 2008, unable to continue on as an institution. The two organizations had been viewed by some as occupying opposite ends of the spectrum, and a certain amount of mythology had developed about the divide. Some of that doubt came initially from Leggat himself, who wanted to be sure of the venture's fiscal advisability before proceeding. Once convinced that taking on the Film Arts legacy was a sound decision from a business as well as community perspective, however, Leggat became a true believer.

In August, 2008, the Film Society announced a new suite of Filmmaker Services, assuming stewardship of key programs offered by Film Arts in its 32-year history.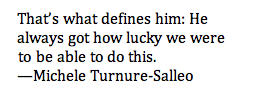 Remembered Filmmaker Services Director Michele Turnure-Salleo, then Associate Director of Film Arts Foundation, and one of four FAF employees, including Filmmaker Education Manager Michael Behrens and Publications Manager Michael Read, recruited to continue the programs through SFFS, "There was a sense of healthy skepticism around whether these two seemingly opposite cultures would come together and create something that was better than the separate, previous organizations. Graham was a visionary in that respect, because he was able to see forward and imagine a culture that was the best of both those organizations and the way that we could get there."

Read called up the first SFFS staff meeting he attended after the Film Arts absorption when we spoke. "Graham was very giddy on that particular day because he had brokered this deal. It was the first time I was subject to one of his incredibly optimistic and inspired speeches. It had all the hallmarks of a typical executive report from Graham. It had the 'Everyone has to take care of each other,' and how 'We're better together than we are as individuals.' I remember the sense of recognition that all of the other organizations that I had ever worked for were dysfunctional. I had the feeling for the first time in my life: This is a functional organization, and as an organization, we're going to live up to the promises that we make."

Turnure-Salleo, in her first meeting with Graham to dispense newly received funds from the Kenneth Rainin Foundation to filmmakers, remembered turning to him and receiving a look of joy. "We were so sort of high on the emotion of it, that we got to do this as our job, helping filmmakers in this way. He always got how lucky we were to be able to do this. I think for me, that's what defines him. He was this perfect marriage of smart thinking and emotional engagement with our pleasure in doing this work, knowing how much it would mean to the person receiving it."

Echoed SFFS/KRF grant recipient and Oscar nominee (La Corona) Amanda Micheli in a July letter to Leggat that she shared with us, "The fact that the Film Society believes in me and took a chance on me....that fact inspires me to keep working."

"I don't know what it would have been like to have tried to make work here without Graham creating the environment he has, an environment he's continued to mold and better since the day he got here," wrote Barry Jenkins (Medicine for Melancholy) from Texas in an email to SF360.org. "A boon to filmmakers, a boon to the city, the kind of impact felt in its making rather than in retrospect."


Getting an Education

Having discovered Beat writers and, through, them, Zen Buddhism, decided to go to NorCal for college. Stanford seemed like a reasonable choice.
Entered school, after a Beat-like cross-country bus ride, in fall 1979, looking for enlightenment.
Found pre-professional determination and high-school-like anxiety, so dropped out. Twice.
First time after sophomore year, to backpack across Europe and pick oranges on Crete. Second time, a year later, to go to Tassajara Zen Mountain Center and become a Buddhist priest.
Got sidetracked, had a baby daughter, Vhary ('82), got married ('83), returned to Stanford and graduated ('87), 8 years after entering with a degree in Modern English and American Lit and American Studies and a prize for Outstanding Undergraduate in the Creative Arts, which came with a $1,000 prize that we spent on a midwife so we could have our second daughter, Isabelle ('87) at home. Those were the days.
—Leggat to Garchik, 2011

Director of Education Joanne Parsont noted that when Graham Leggat was hired in 2005, the Board had already mandated that he focus some of his efforts on building a year-round Youth Education program. But, she said, "No one, including me, could have envisioned or foreseen what Graham ultimately made possible in the realm of educational outreach and programming at SFFS."

Soon after Leggat arrived, the Youth Education program was made into a year-round initiative, with Keith Zwölfer hired as the Youth Education manager. (Parsont was a freelance consultant at the time.) After the absorption of Film Arts, FAF'S own filmmaker education program became part of SFFS, with Michael Behrens as its manager.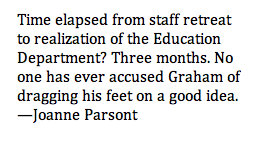 "But it was not until almost a year later," remembered Parsont, "after a particularly inspiring staff retreat—where Keith, Michael and I were brought together to brainstorm and present to the rest of the staff our ultimate dream idea of where the education programs could be in 5 years' time—that Graham decided to put the two pieces together, throw in an as-yet-undefined Colleges & Universities component, hire me as the director of the department and make education a significant component of the organization's mission. Time elapsed from staff retreat to realization of the Education Department? Three months. No one has ever accused Graham of dragging his feet on a good idea."

From that point forward, Parsont elucidated, there was a very clear and active re-visioning of SFFS from an organization that was primarily a film festival producer to an organization with three distinct core program areas: exhibition, education and filmmaker services. This shift in the organization's mission and image was, she says, "monumental."

"The very fact that these three areas were now considered equally valuable and viable has been transformative to our educational programming. It has given us the opportunity and autonomy to develop new programming, think outside the box and imagine the impossible."

In 2005, SFFS's education efforts were serving about 4,000 K-12 students each year. Today, that number has exceeded 10,000, and SFFS has become a valuable resource for media literacy education in the schools. In the Film Craft & Film Studies program, it offers more than 120 classes annually, with more than 800 students enrolled each year. Said Parsont, "The real story of our impact on the community is told less by the numbers and more by an unquantifiable rise in the awareness and appreciation of cinema, an improved caliber of filmmaking and film discourse and an increased engagement of filmgoing audiences with the medium."


Being Graham Leggat

Remarried 1993 to Lillian King Heard, moved to NYC 1994 on the strength of a temp gig stamping the backs of journalists hands at press screening at the New York Film Festival. Thought I'd died and gone to heaven. Eked out a living for the next year, until I landed a job at the American Museum of the Moving Image. That was the beginning of traction and the rest is pretty well documented.
Less well known stuff from that era: Helped found Gen Art Film Festival. Bought a show dog in 1997, a Tibetan Spaniel, made him a champion, showed him at Westminster in 2000, finished in the ribbons. Had lunch with Parker Posey as research for Best in Show. Columnist for Daily News writing on the videogame industry, 02-05. Published novel 2007; though it couldn't be given away on publication, since it is now out of print it is selling from $100+ on Amazon. Hahaha. Jesus, there are lots of little funny things. I can't even remember half of them. That's what happens to a life, though, isn't it. The little ornate things drizzle away, like cakes in rain, while the big blocky stuff is left to stand in for a lifetime of minutiae. Sad and beautiful. Lillian and I had a son, William, in 1992. He's a gem. So is she; though divorced in 2005 we are still on great terms.
—Leggat to Garchik, 2011

Graham Leggat is the best leader the Film Society has had in the 25 years I've lived in San Francisco. I don't think anyone would contest this, and yet I think this is only a fraction of what is motivating the outpouring of sadness and distress at his illness. Yes, the Film Society and San Francisco and probably the national film scene would be better off with Graham still in place, working for the next two decades or so, becoming a gray eminence and lining up a string of accomplishments. But this isn't why I felt like I was kicked in the stomach when I heard that he was ill—it's him. It's him as a person. He is open, radiant with sanity, good-humored, and I have to say he did not approach me, as a person in the press, with the usual combination of terror, resentment and phony friendliness. We connected, as two guys the same age who happen to love movies. A few years ago, over lunch, we tried to figure out which one of us had the best job in the world . . . But anyway. I don't know. What do you say about a person that hasn't been said about a million other people who deserve it less? How do you convey to people who don't know Graham that they've missed something? I like him a lot. I think he's great, and I think we could have become good friends if we weren't so damned busy.
—Chronicle Film Critic Mick LaSalle to SF360, August 23, 2011

Graham and I got to know each other when he was working at MoMA. I was always struck by his energy and his focus— extremely intense, but clear. He has never had any of the manic drive you find in certain people, in whom said drive only becomes that much more manic when they try to cloak it.
When he came to The Film Society of Lincoln Center, he was a real comrade in arms. I turned to Graham many times about matters both professional and personal, and he was always generous, thoughtful and wide open. And there has always been something uniquely boyish (and bad-boyish) about him and that great open face of his and his excited way of speaking which ends every sentence with an upward lilt; about his love for his children; about his excited response to games; about his enthusiasm for his novel, Song of a Dangerous Paradise.
But I always thought: this job isn't big enough for him. Graham seemed primed to think and work on a much grander scale. When he got the job in San Francisco, I was not at all surprised, but I was thrilled. And you all know what wonders he worked there. I've been to that very special festival a couple of times, once on a jury in 1999 and once during Graham's tenure to do a conversation with Jim Hoberman when he received the Novikoff Award. I was so heartened to see Graham completely at ease and in his element.
—Filmmaker/critic/programmer, former Film Comment editor, World Cinema Foundation Executive Director Kent Jones to SF360

"I was between gigs after Frameline ended," remembered Steven Jenkins, and I came here to [edit the catalogue]. Graham and I started to chat more during that period. We realized we had things in common, films we were interested in, music we liked. Then, at the opening night party of the 50th International in 2007 that was held at City Hall, we crossed paths on the grand staircase. I was going up and he was going down. And he stopped me, put his hand on my shoulder and said, 'How are you at spreadsheets?' I became Director of Finance and Administration before becoming Deputy Director."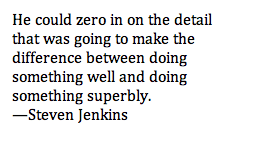 Jenkins had always been impressed by Leggat's style as a leader. "He had a keen awareness of the crux of any given situation. He could zero in on the detail that was going to make the difference between doing something well and doing something superbly. All the meetings we had together with outside constituents were such a learning opportunity; I could just watch his mind at work. His eyes flick back and forth when he's got the ideas brewing. When I see the eyes flick back and forth, I know we're about to hear something good."

"At a staff meeting once," recalled Jenkins, "and I forget who we were talking about or what the situation was, he said, 'I hardly think they're going to want to incur the specter of my displeasure.' He so relished that kind of Bond villain. He uses language extremely well. And that's such a Graham phrase. I thought, 'I never want to incur the specter of Graham's displeasure.' I think I pretty much have been able to succeed in keeping him pleased."

Said Jenkins, Leggat carried an air of earned authority. "Authority is very different than entitlement, which he doesn't have at all. Which I think is the least attractive of qualities that someone can have. I think it was because in almost every instance he was right on in his judgment. He wasn't deciding something merely for the sake of deciding it, but had an end result in mind. 'I can make this decision thus an employee will be happier, a program will be stronger, a donor will be more generous.'"

Jenkins was Leggat's friend and ally in these difficult 18 months, and remembers getting word of Leggat's original diagnosis with colon cancer in March, 2010. By necessity, Leggat was pulled away from the office, but worked the entire 53rd International after the diagnosis, though no longer putting in 15-hour days. Post-festival, Leggat started chemotherapy, which lasted six months. Jenkins took on more of Leggat's Film Society work. In December of 2010, Leggat received what he called a clean bill of health, which was a cause for joy at the time, said Jenkins, though Graham said he still wasn't feeling quite right, at the time chalking it up to chemotherapy recovery.

Leggat found out in March, 2011, that the cancer had returned aggressively. He chose not to tell many people when that happened. Jenkins remembers asking Graham about his health, and remembers Leggat's response that month as they were preparing for the 54th San Francisco International. "Let's make a deal," Leggat told him. "Don't ask me any questions until after the festival. There's going to be a lot of work, a lot of fun. Let's just get through this festival."

Three days into the festival, unable to eat solid food, Leggat realized he needed treatment, and stepped away. Jenkins stepped in to introduce films, work with the board, host dinners and receptions, all with Graham's trust.

"He's been a friend first and a boss second, really," said Jenkins. "And I think he's truly an extraordinary guy. I put him in very rarefied company of people I've been lucky to know."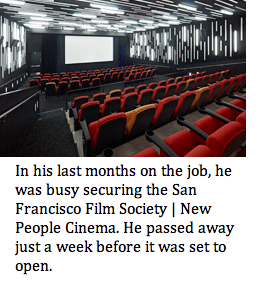 Jenkins was not alone in that feeling. "He had this way of easily exhibiting the pleasure he took in a lot of what his job entailed without it seeming like he was just in it for the pleasure," remembered Rosen, who'd worked side-by-side with Graham for the past two years since leaving Los Angeles to return to SFFS as Director of Programming.

"A lot of people exhibit pleasure, and you think, 'That guy's just in it for the trips, or the movie stars.' Graham exhibited pleasure in what he was doing, and he was very inclusive about it. Whether that was with staff or the board or the audience, it just made people feel included in his enthuasiam…He makes people feel like, 'Of course, we're in on the same joke. Whether it's a good thing that's happening or a bad thing that's happening. You get the feeling that he's sending you the message: Look what we're doing and look where we are. Can you believe this? How great is this?"


**************************************************************************


Graham Leggat (b. March 12, 1960), executive director of the San Francisco Film Society, a national leader in exhibition, education and filmmaker services and presenter of the San Francisco International Film Festival, died at his San Francisco home on August 25, 2011, after an 18-month battle with cancer. He was 51. Leggat is survived by his parents Graham and Marilyn of Niagara Falls, Canada, son William and daughters Vhary and Isabelle, sister Alexandra Leggat of Toronto, devoted partner Diana Chiawen Lee, former wife Ellen Hughes, mother of his daughters and former wife Lillian Heard, mother of his son.

In lieu of flowers, donations in Leggat's memory may be made to the San Francisco Film Society. Condolences should be sent to inmemoryofgraham@sffs.org or c/o Jessica Anthony, SFFS, 39 Mesa Street, Suite 110, The Presidio, San Francisco, CA 94129.

A memorial service, open to the public, is planned for late September.

For more information visit sffs.org.